You may have dreamed about living in the Colorado Rocky Mountains but have questions about what the average price of a home is in Evergreen Colorado in 2021. This article is a great place to start as it will educate you on the current state of the market as well as the best time of year to buy and how competitive buying a home in the Evergreen market can be. Let me start by saying that I am both a resident of Evergreen as well as a Realtor with Keller Williams that specializes in mountain properties, so I am an expert on this topic.
I will first start by saying that Evergreen is a unique market. While it is close to Denver, Evergreen represents a population of buyers who are financially capable of buying single family homes in the $500k+ range and most likely are not first time home owners. Mountain homes are not priced by the square foot like they are in most other markets. The reason for this is mountain homes have too many variables that influence the price. Mountain homes may have varying size lots, flat lots, lots on the side of a mountain, mountain views, no mountain views, condition of the home, and location can all greatly influence the price.
Example of $400k Range Evergreen Home | Example of $500k Range Evergreen Home | Example of $600 Range Evergreen Home
Evergreen Colorado Median Home Sold Price = $800,000 (01/2021)
Lets start with the median home sold price of homes in Evergreen Colorado. This chart below represents the most current market trends. As I write this article it is early November 2018 and the median home sold price is $800,000. That does not mean you can't buy a home for less than $800,000, it just means that is that all the homes sold in the Evergreen market that is the median price.
As you can see from the graph below homes in Evergreen have been steadily increasing in price. You will see a few dips in this chart due mostly to seasonality and the number of homes that are listed for sale. Don't let the current median sold price scare you. There are homes available in evergreen below the 800's.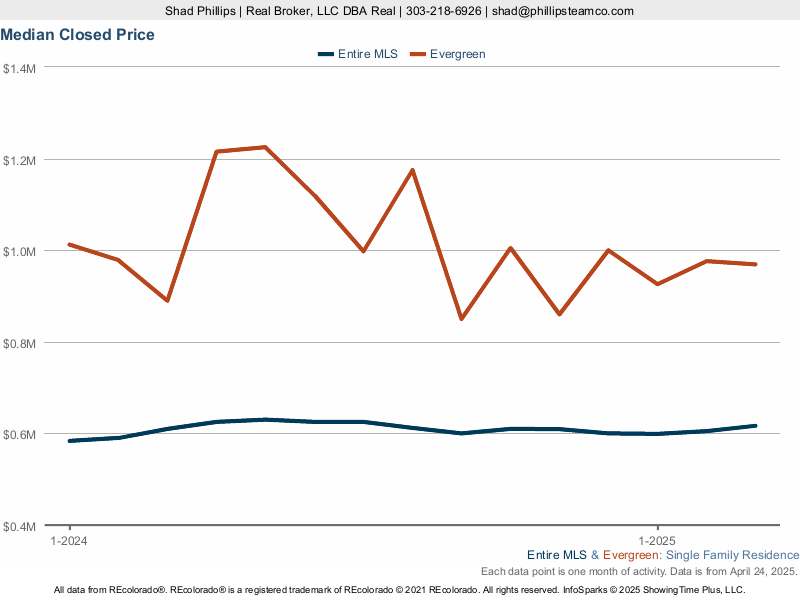 Active Listings – Evergreen Colorado
Evergreen is unique in that is a seasonal market with most of the home inventory decreasing between November and February each year. Home inventory decreases every Winter and you can see that represented in the active listings graph below. Having said that while the inventory decreases in the Winter, this can be one of the best times to buy a home in Evergreen. Reflect on the Median Sold Price graph above and you will see that cyclically, Winter is where prices dip. Home owners in Evergreen know that they are less likely to sell their home in the Winter for top price than in the Spring or Summer months. Most likely if you are selling in the Winter months then as a buyer you most likely have to rather than want to sell at this time in the market. Note that in 2020 / 2021 you will see inventory drop drastically compared to previous years. The reasons for this is because of both Covid and the ability for more people to work remotely as well as historically low interest rates. Sellers are reluctant to sell because inventory is so low and they are not sure how difficult it will be for them to acquire a new home.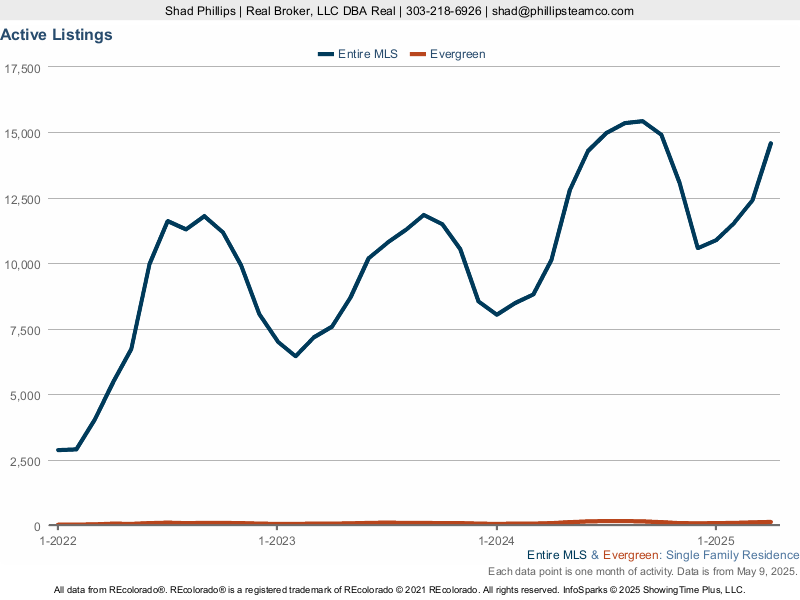 Median Days On Market
As of January 2021 the median days on market is less than 10 days. Evergreen is experiencing historically low inventory as you can see from the graph below. (see the red line) From my experience the top 3 homes in the $400k – $1mm range would be under contract within a few days. Certainly as homes get more expensive are fewer people who can afford them and thus they are on the market a little longer. While I can't fully predict the future I believe homes in the $400-$1mm range will still be in high demand. Interest rates are historically low in 2021 and I think this is going to continue to fuel the demand for homes in 2021. Evergreen homes in the past 3 years have increased rapidly in price. I know my home has doubled in value.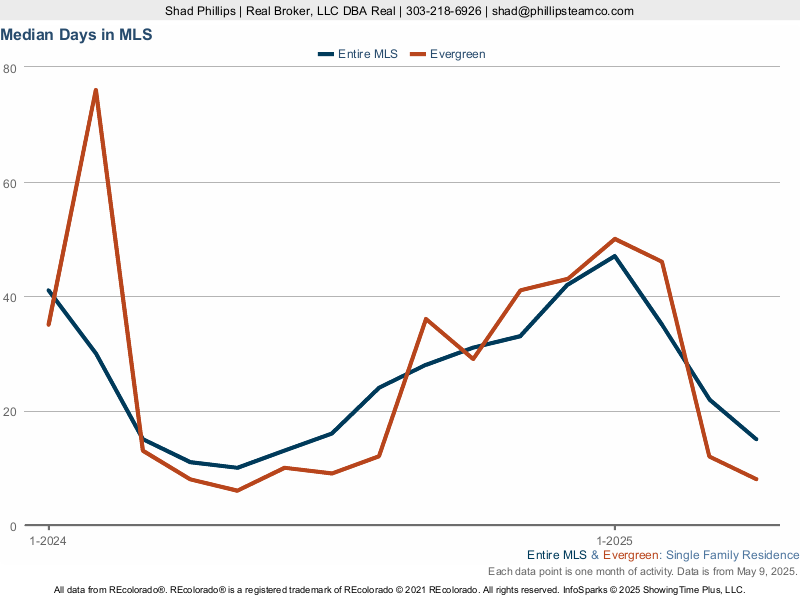 Median Showings to Under contract:
The average showings until contract chart is in alignment with the number of days on market. The Spring & Summer months reflect higher market demand and thus there are fewer showings before a home goes under contract. The graph below shows the median number of showings before a home goes under contract and that number has been shifting up. The reason for this is because the demand for homes in the Denver foothills has greatly increased. I can tell you from my experience that out of my personal 23 transactions in 2020, 19 of them were multiple offer situations.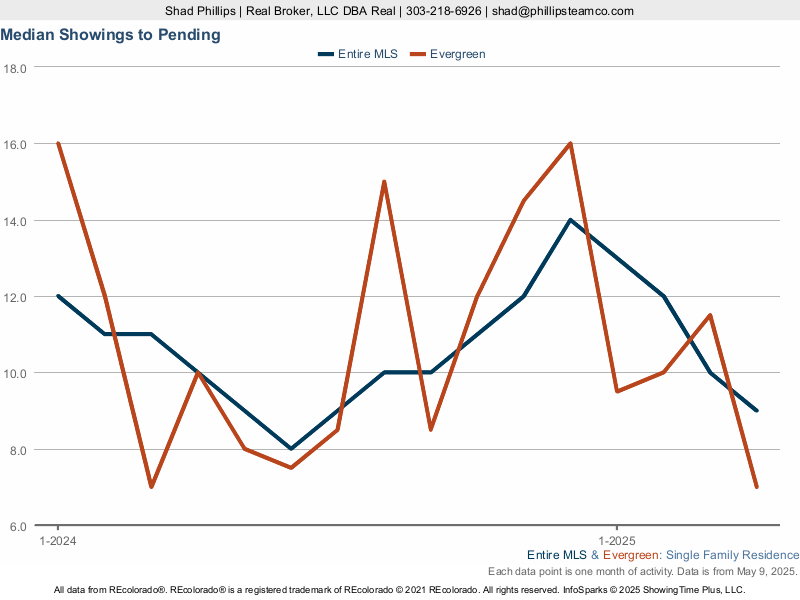 Contact an Evergreen Colorado Real Estate Agent
Shad Philips – Certified Mountain Area Specialist 303-218-6926
To learn more about any Evergreen Colorado homes for sale or to receive email notifications when homes are listed for sale in Evergreen Colorado, call 303-218-6926 or contact an Evergreen Colorado REALTOR®.
You might also like